What makes our outerwear so special?
We don't mess around when it comes to outdoor play. Lightweight, flexible and extra durable in all the right places - because staying toasty warm shouldn't stop outdoor play.
We are wet weather experts and have been for over 40 years.
"Our waterproof jackets are super hard wearing – so they look as good as new, with every single hand-me down."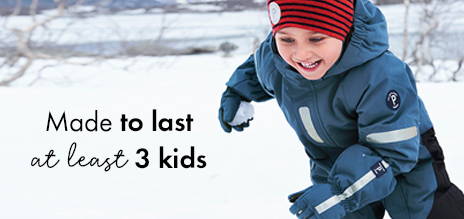 ---
Especially for kids
Children hop, jump, climb, roll and crawl in all weather so of course it is important their clothes are child friendly. Outerwear with curved sleeves and legs that give the child full mobility. Practical and hardwearing clothes that can be passed down.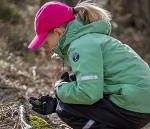 Our clever features
• Lightweight yet durable
• Safe detachable hoods
• Reflectors all round for visibility in the dark
• Pre-bent arms and legs for extra mobility
• Chinguards for comfort
• Quality zips
• Strong knees and elbows
• No harmful chemicals (free from PFCs)
•"Anti dirt" finish for easy cleaning
---
What's so special about merino?
Merino wool can be considered nature's perfect insulator that keeps kids warm when the weather gets chilly and cool when it warms up. It's worked for sheep for centuries! As an added bonus, Merino keeps its shape too.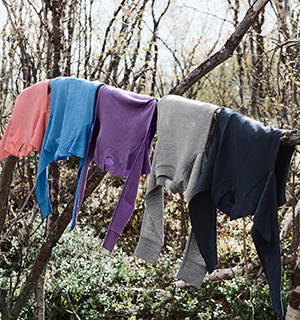 ---
Our Bionic-Finish® Eco waterproof fabrics are free from PFCs
Inspired by nature, this clever technology repels water without the use of harmful chemicals, so it's kind to skin and also kinder to the environment. It keeps your child dry whilst still being breathable, easy to wash and it even keeps colours bright!
Durable is sustainable
Kids' winter clothes need to stand up to all kinds of play so we stress test the fabrics using a special machine.
Our outerwear can withstand over 5,000 weighted rubs of sandpaper on the machine, meaning the garment will last for at least 3 children!