When the skies open up, rain pours down and the earth is transformed into a giant mud puddle – that is of course also when it's the most fun to play outside. And it is also exactly when kids clothes are really put to the test.
Shell or traditional rainwear – what's the best choice? Here we compare the advantages and disadvantages of both products.
WHICH IS BEST FOR MY CHILD: RAINWEAR OR SHELL FABRIC?
Since shell garments work so well with the layering principle, are more flexible in the fabric, and are made of a durable material, many people prefer shell over traditional rainwear.
But of course it depends on the application. If your child is sitting still in the sandpit or making mud pies, you don't need the breathability of shell, and it will be easier to clean a kids Rainwear garment with a simple rinse.  
So give some thought to how your baby, toddler or child usually uses their outerwear, and then make your choice based on what is best outerwear jacket for you both.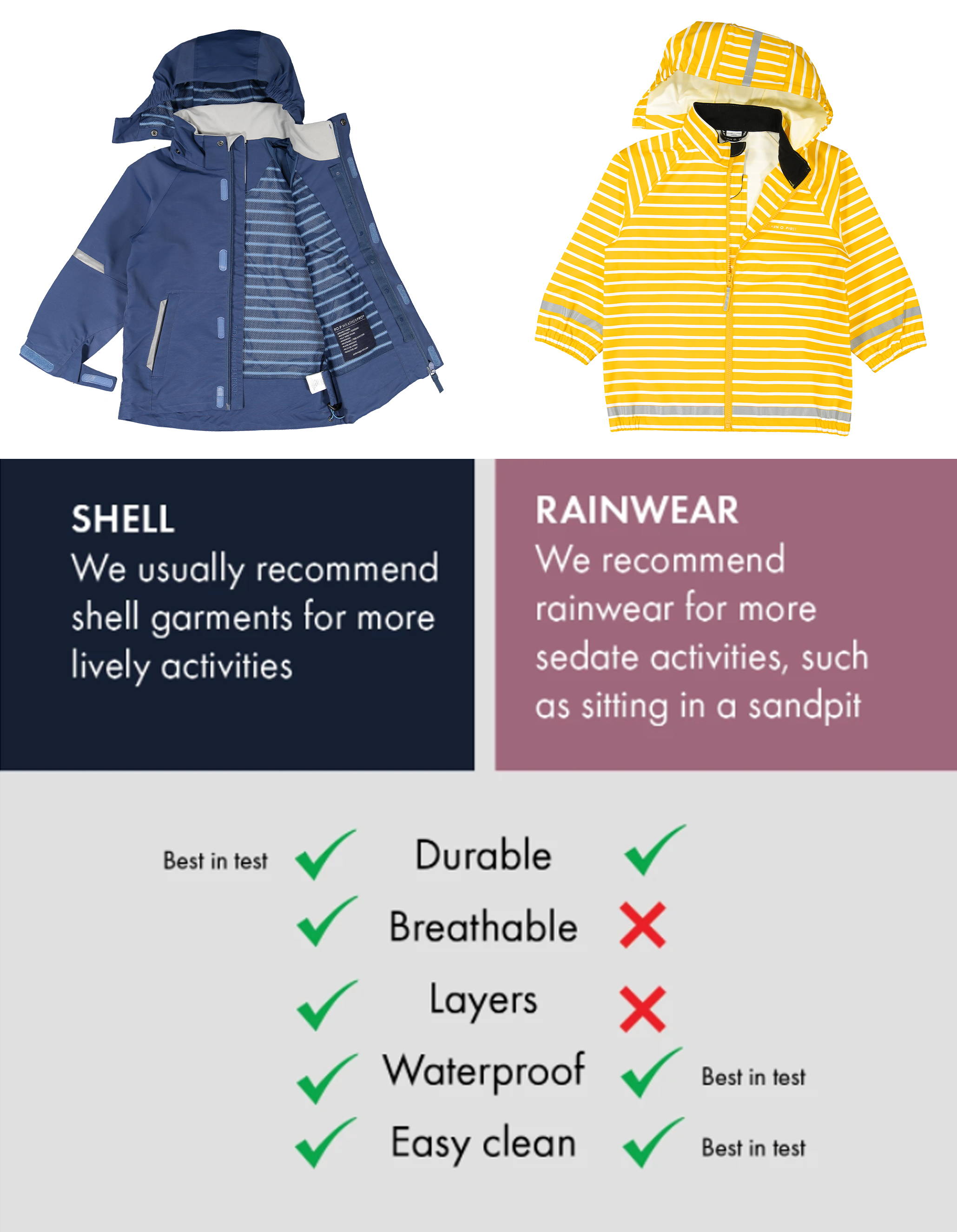 SHELL CLOTHING
Polarn O. Pyret shell range includes wind and breathable waterproof trousers and  jackets with taped seams in durable materials that breathe. Everything your child needs to stay happy, warm and dry.
Our shell garments have a waterproof rating of over 10,000 mm. Waterproof clothing is rated by using a water column to indicate how much water pressure a garment can withstand before it starts to leak. A garment with a waterproof rating of at least 2,000 mm can be called waterproof if it has taped seams. A good functional garment that breathes should be able to withstand a water column of 10,000 mm. Our waterproofing process is PFC free since 2015, so can be confident that your children wear their PO.P Outerwear without unpleasant chemicals being used in the preparation of our clothes. 
Our kids waterproof trousers have detachable and adjustable braces and pre-bent legs for increased mobility. The waist and ends of the legs are adjustable, and the elastic foot straps make sure the trousers stay in place and don't ride up. The foot straps are held in place with buttons and can be easily replaced if needed. The shell trousers have a zip in the side to make dressing and undressing as quick and simple as possible. 3M reflectors provide 360-degree visibility. 

Shell Care
Wash your shell garments inside out with zips and Velcro tabs closed to protect reflectors and trim. Shell garments can be dried in a drying cabinet or airing cupboard on low temperature settings. Shell garments should not be tumble dried. Wipe down clothing with a moist cloth and don't machine wash too often. Washing machines impair a fabric's ability to repel dirt and water.
After a few washes, you may want to re-waterproof shell garments to maintain water resistance. To know if your Shell needs to re-impregnated, you can sprinkle some water on to it. If the water droplets roll of the fabric the impregnation is still intact. If the water droplets get stuck and wet the fabric, it is time to re-impregnate. For the impregnation to last as long as possible from the beginning, it is important that the item is dried in warm sunlight or in an airing cupboard after wards. 
We recommend our customers to use Nikwax or Green Guard re-impregnation spray. This since these two are PFC –free options that we have tested on our garments. Further we recommend our customers to follow the instructions given on the bottle. 
TRADITIONAL RAINWEAR
Polarn O. Pyret also carries traditional kids rainwear with welded seams that hold tight. Our traditional rainwear has a waterproof rating of about 8,000 mm, and a very smooth surface that is easy to clean.
Polarn O. Pyret has traditional rain jackets and rain trousers with matching rain hats and rain mittens in each collection.
The rain trousers have adjustable braces and elastic straps that go under the feet. Naturally, there are also reflectors on both the back and the front.
The rain jacket has soft fleece on the inside of the collar and a 360-degree reflective band all the way around the bottom of the jacket to ensure visibility in the dark.
Rainwear Care
Traditional rainwear also functions best with only occasional washes. Wash traditional rainwear inside out and air dry.
If water leaks in?
Sometimes water can seep in from somewhere else than through the fabric itself. Water can, for example, trickle in under the collar or cuffs, which will make the inside of the outer garment wet. Sometimes condensation can also occur on the inside of the garment if the clothes are too tight and don't let out the moisture that forms when your child is very active.
If you suspect that water has seeped in through the fabric without excessive water pressure, please contact your nearest shop or our customer care. Our goal is to make sure that our customers are always satisfied, and if you are not satisfied, we will do everything we can to change that.