Growth spurts can happen overnight and suddenly your child's clothes no longer fit their arms or legs. But what if we could extend the life of their outerwear?
PO.P Flexisize can be extended up to 1.5 sizes, which means that the garments can be used for longer and you won't have to worry about buying new clothes for a while. When it's time to hand down the garments to another child, simply adjust them back to the original size. How clever is that!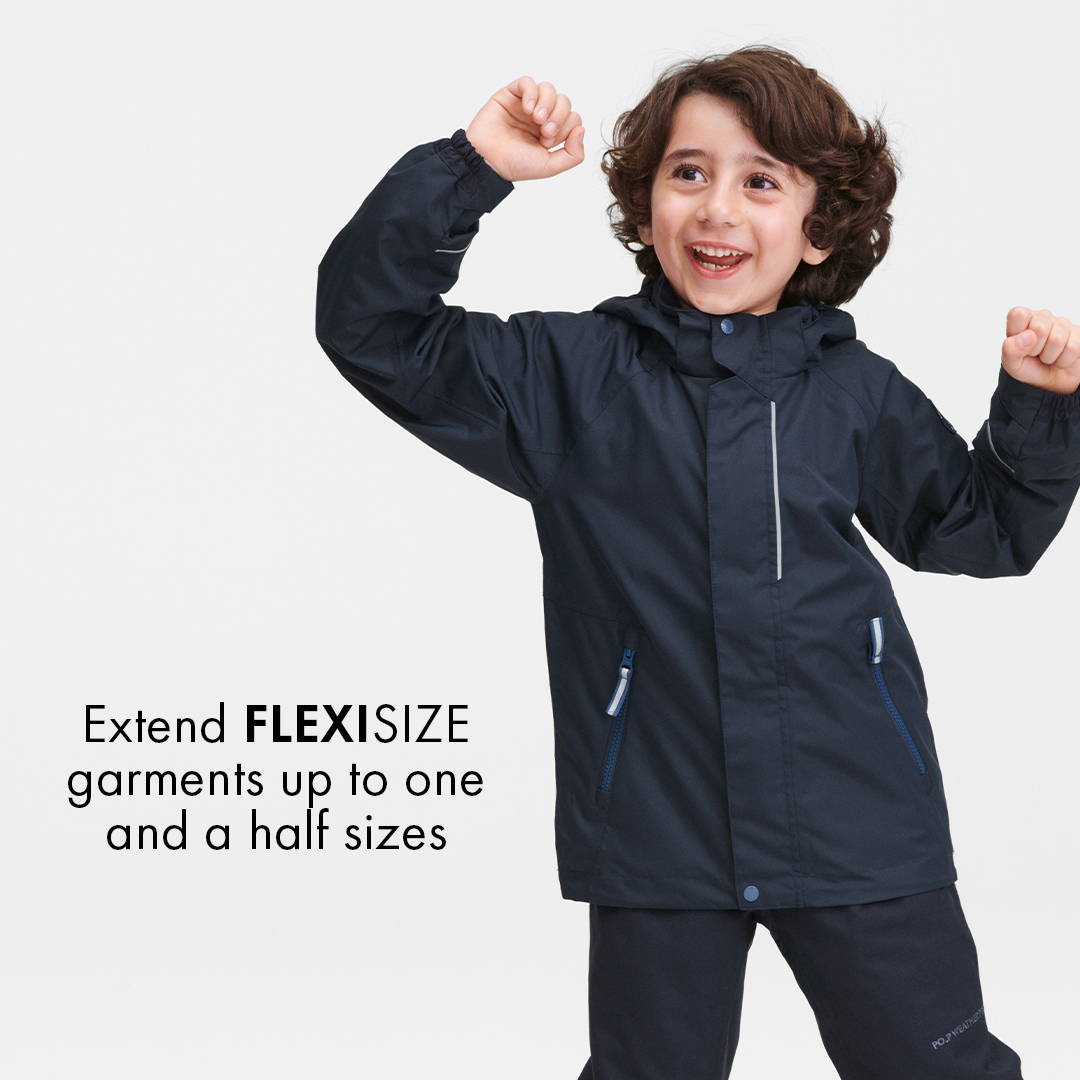 What is PO.P Flexisize?
PO.P Flexisize consists of a shell jacket and shell trousers that can be extended up to 1.5 sizes and then adjusted back to the original size again. The garments are easily adjusted with the help of a hidden buttonhole elastic; the same one that we use on our trousers and leggings.
How do I know what the original size is?
You can find the garment's original size by using the two red seams on the buttonhole elastic. When the button is attached between the markings, the garment becomes the size indicated on the size label.
The jacket and trousers have two adjustments in each sleeve and trouser leg. This allows the garment to have   as good a fit as possible.
Meet our designer Susan Pang!
How was the idea for PO.P Flexisize born?
Outerwear that grows with the child has been on the market for a long time, but these solutions have not had the best fit or have been difficult to restore for the next child - which is a must for us because we want our garments to be inherited and worn by three children. The requirement for our solution was therefore that the garments can be restored to their original size so that they can be used again by the next child. Based on these conditions, I started sketching. The result was PO.P Flexisize
PO.P Flexisize smart features:
The adjustments are hidden in a small pocket on the inside of the sleeves and legs. This helps to avoid the risk of the child getting stuck when the garment is put on and off.
The garment has several adjustment positions, which means it can grow with your child. Your child will never wear a garment that is too large for them.
The garments are marked with PO.P WeatherPRO®. This label guarantees that our clothes meet our high requirements when it comes to functional outerwear.
What size do I choose?
The size specified on the garment is the smallest size of the garment. If your child is 104cm tall, buy size 104. Then the garment can grow up to 1.5 sizes based on the specified size. A garment that is, for example, size 104 can grow to be 113cm in size.
The garment is delivered in its largest position, completely unadjusted.